Hi all,
I have been running a project on Vercel for several months with no issues. I have my repository connected to git, and whenever I have pushed to the main branch, it has built and configured on vercel just fine. About 4 days ago, I noticed a change in the vercel logs, and I am getting errors on the build because it loops over the dependency packages without stopping. I had changed nothing in the dependencies.
Old log screenshot: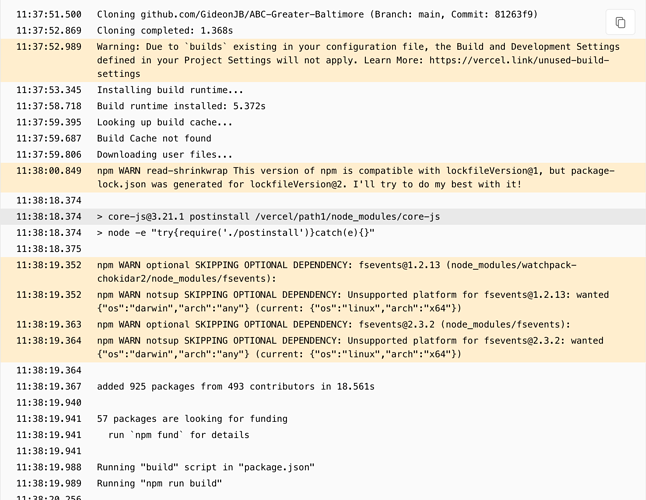 New log screenshot: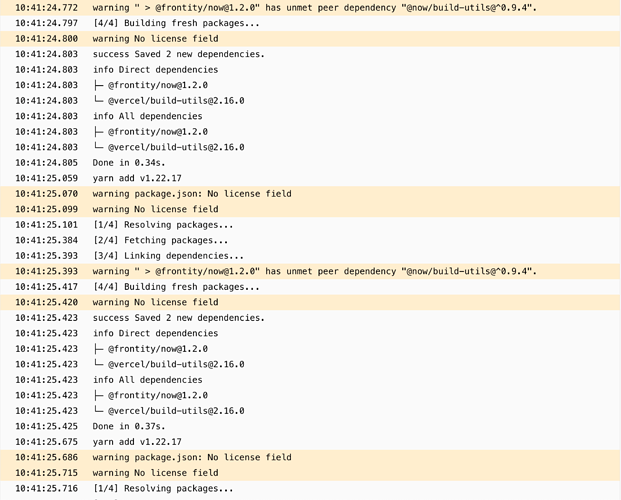 It will continue looping in that fashion for 45 minutes until vercel times out. I don't seem to be able to change the fact that it is using yarn, and I'm not sure why. I tried looking into the vercel build settings, but when you have a "builds" option in your vercel.json file it overrides them. So, because of @frontity/now, it overrides any build setting changes.
I have tried deleting the "builds" option from the vercel.json file, and then everthing builds correctly, but when I'm finished vercel gives a 404 because it can't find anything in the build repository. I've tried changing the location to public, build, . , package.json, etc. Nothing seems to resolve correctly.
I'm hoping this is a simple fix on something I am missing, but my fear is that some change in vercel has caused the @frontity/now package to break the way it builds on their servers. I even attempted forking and cloning @frontity/now to attempt to resolve some of the dependecy issues that currently exist on that package (possible pull request incoming at a future date), but I still end up in the endless yarn loop.
Any help would be appreciated
github repository:
If you are going to respond with "update your own dependency tree,' or "make sure forntity is up to date" please be specific, as it is clear that frontity is not being maintained as it once was, and will require some love form the open source community. I've been trying to finish this project first before I dive into some of those issues.