Hi guys!
I have built (still work in progress) a very simple portfolio site in Frontity. At the moment it's just a really simple 2 page site using ACF flexible content. I'm probably going to add a work and blog pages later.
Live:
https://benwrightdev.com/
Code:

It's pretty quick!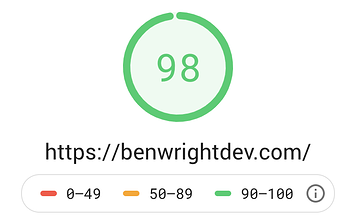 Experience with Frontity has been very good, I haven't had to dive deep into much functionality yet because it's a very simple site but everything was super easy to get started and the docs are comprehensive.
The only problem I experienced is when I deployed the site, I forgot swapping my domain from the wordpress instance to Frontity meant that the wp-source plugin would break! Instructions on how to setup a subdomain in vercel might be worth mentioning in the deployment section. I've now got wp.benwrightdev.com for the wordpress source.
Thanks for everyones awesome work on the framework! It's exciting and I'm definitely going to stick around and hopefully make some contributions!
Ben