Hi there,
I am having some issue with frontity in IE11 (not exciting I know). The problem initially presented itself as all react functionality not working. Only frontity links would provide any ability to interact with the app. Not a single onClick would execute any react hook.
Looking at the console with a production build, the debugger was throwing the error Accessing the 'caller' property of a function or arguments object is not allowed in strict mode. I don't know if this is the culprit for my app not working fully in IE11 but its the only error I get. I then tested this with your deployed demo of the mars theme and found the same error in the IE11 debugger.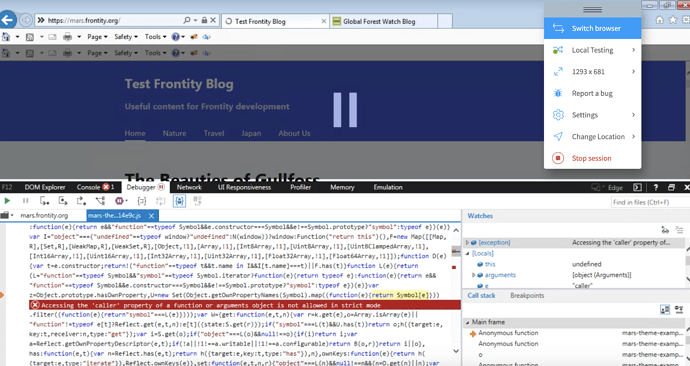 This is a link to the production build of my app that is having the same issue: https://gfw-blog-headless.now.sh/.
As a side note, when testing the same pattern in dev mode for both app I get syntax errors in the IE11 console but havne't gone down that path yet :).
Any help would be greatly appreciated. I can launch without IE11 support so Im a little stuck.
Also loving the project

Thanks,
Ed