Hi folks

We will be speaking about Frontity at WordCamp Los Angeles (#WCLAX) next Sunday, October 18.
Here's the schedule (times are in Pacific Daylight Time (PDT) / UTC -7)
Frontity Framework: Introduction to Building React frontends for WordPress
In Track 1 at 9:15 UTC -7.

Our co-founder @Pablo will give an introduction to Frontity, what we learned while working with WordPress publishers in previous years, why Frontity might be a good choice for your project and how it compares to other similar solutions.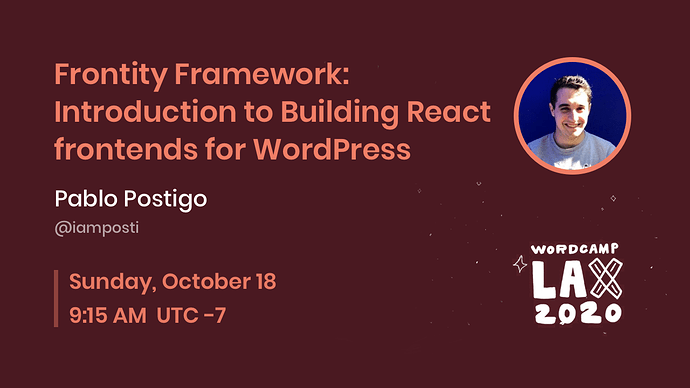 Connecting Gutenberg and Frontity: A Case Study
In Track 1 at 10:15 UTC -7.

In this session, our Product Manager @santosguillamot will talk about how we used Frontity and Gutenberg to build the frontity.org website, what challenges we found and how we solved them.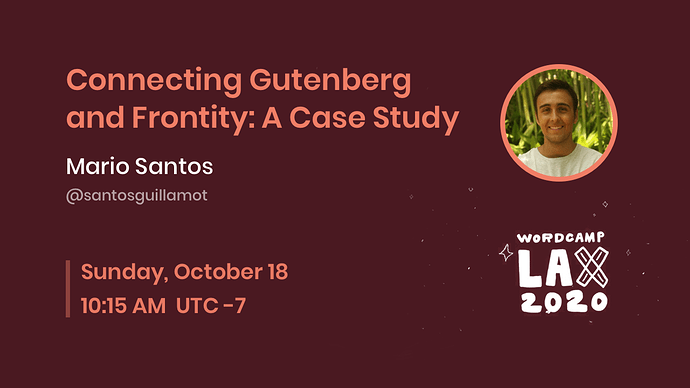 Very excited to take part in this awesome community event!

Check out the full schedule and register for free here: https://la.wordcamp.org/2020/schedule/.