New features
Infinite Scroll hooks stable version. With just a few lines of code, you can add now Infinite Scroll to your Frontity project. Thanks @orballo and @David for the implementation . Here you have a demo of how it works and how to implement it.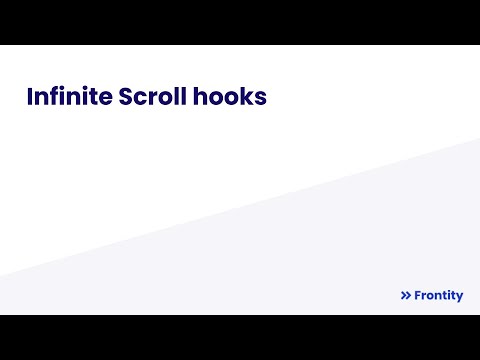 Support for Google Analytics 4. We have released a new version of the @frontity/google-analytics package with support for Google Analytics 4, while keeping the support for Universal Analytics.

It includes breaking changes, so if you are sending your own pageviews or events, make sure you migrate them following this guide before updating this package. If you are just sending the default pageviews, you shouldn't worry.

AMP package (Work In Progress). We have released an initial version with some functionalities but it's not ready to use yet. Once this issue is released, we can start testing it. You can follow the whole progress on its board. Issues already merged and released:
Enhancements
Bug fixes
To keep Frontity and its packages updated, you can follow this guide in our documentation.
---
Packages Changelog
---
Major Changes
Patch Changes
---
Minor Changes
3673a228 #687 Thanks @cristianbote! - Expose the render, template and App methods to override the built-in default with user-defined ones.
Patch Changes
---
Minor Changes
31102365 #429 Thanks @orballo and @DAreRodz for the amazing work! - Implements the brand new and long-awaited infinite scroll hooks collection, featuring useArchiveInfiniteScroll, usePostTypeInfiniteScroll and useInfiniteScroll. Feature Discussion
Patch Changes
---
Minor Changes
Patch Changes
---
Minor Changes
Patch Changes
---
Patch Changes
---
Patch Changes
---
Patch Changes
---
Patch Changes