We have finally launched our first theme 'AWSM F1', a starter theme for Frontity. Out of the box, the theme provides support to common Gutenberg WordPress editor blocks and more importantly, you can extend it to further support any blocks.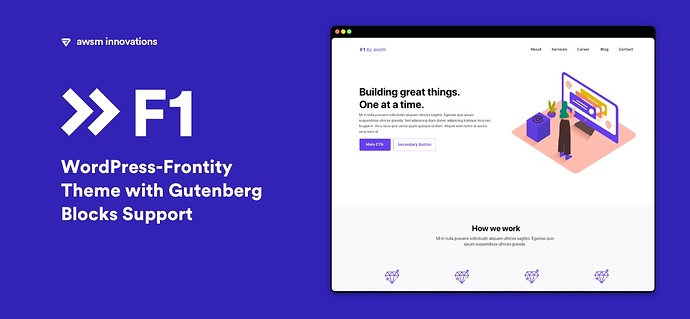 You can view a demo of the theme here.
The theme has a bare-minimum bootstrap CSS which combines following Bootstrap CSS/SCSS files: functions, variables, mixins, root, reboot, type, grid, forms and utilities from the latest version. This is essentially provided as a starting point for resetting browser defaults, typography styles, from styles, creating custom layouts/grids and adding responsive breakpoints. Note that we have not included any bootstrap JS files.
AWSM F1 also adds support for WP Job Openings WordPress plugin that combines our WP Job Openings Frontity package. All the default fields and the fields supported by WP Job Openings Pro are supported in the job application form. Also, the theme has been built keeping SEO in mind.
I am not claiming it that it is a production-ready and perfect theme. All we wanted to do is to try build a beautiful theme utilising the potential of Frontity and we are very happy with the outcome! Feel free to play around it, use and share.

Pull requests and forks are welcome. You can use this code freely for your own projects and/or experiments. If you have any suggestions or questions feel free to write a message.
NPM Package - https://www.npmjs.com/package/@awsmin/f1
Git Repository - https://github.com/awsmin/f1