Hey there, I've seen many people talking about 404 error they run into when connecting their own Wordpress site and I tried to solve my problem, but so far with no luck.
This is the error I receive in the console:

And this shows up in the terminal:

Seems to happen to every page, although they are existing on my Wordpress site.
If I don't specify the homepage in frontity.settings.js for @frontity/wp-source, it doesn't throw an error, but then it fetches only the archived posts.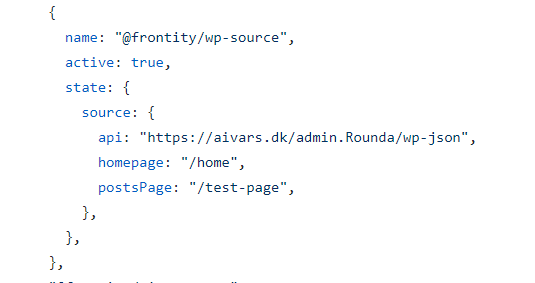 Deployed version of a site: https://rounda-77hap5kef.vercel.app/
Repository: https://github.com/aivarsyo/Rounda
Rest API: https://aivars.dk/admin.Rounda/wp-json
Can't exactly figure out what causes it, but it's weird as when I enter in url "/home" or "/test-page" which are existing pages on the Wordpress side, I can see this content at frontity.state.source.